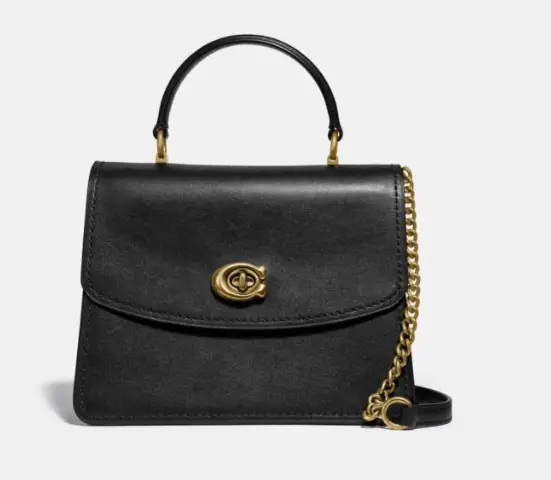 Every girl knows that you can save money on "rags": sometimes you close your eyes to the quality of the fabric in favor of design, for example. But investing in shoes and bags is inevitable. After all, you can see with the naked eye if the bag is of poor quality. It's like a man's watch. Better to have some, but good ones. Few are willing to shell out several thousand dollars to buy a Chanel or Yves Saint Laurent bag. And this is not necessary at all. Fortunately, we have access to brands with much more affordable prices, while not inferior in quality to luxury brands. We will talk about them today. We're going to talk about branded quality bags that are really worth the money and will last you years. Smell, cut, attention to detail – everything that makes a product of high quality. I bring to your attention 10 top-end bags of the middle price segment, the cost of which does not exceed $ 700.
COACH
Coach is an American brand with a history dating back to 1941. Bonnie Cashin used dense natural leather for her bags. The manufacturing process was very similar to the manufacturing process for baseball equipment. Coach style can be defined as country style. Although in the modern line you can find all kinds of models. Both in more popular colors (black, brown), and in more juicy (green, pink, with ornaments). By the way, juicy colors are more characteristic of the brand, since classic colors began to appear in collections only at the beginning of the 20th century. That is, after 60+ years of the brand's existence.
Prices for Coach bags are relatively high for their segment. The average price is around $ 400-500. However, the Coach bag can be purchased for $ 300 during sales season. The most popular bags, however, are difficult to buy at a discount.
The most recognizable and beloved Coach bag among ladies is undoubtedly the Parker line.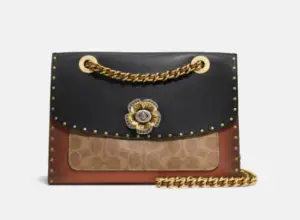 Parker With Rivets And Snakeskin Detail
Such an incomparable crumb can be bought on the official website for $ 600 at a regular price.
If you're just starting out with your bag collection, the more versatile Parker version is worth a look.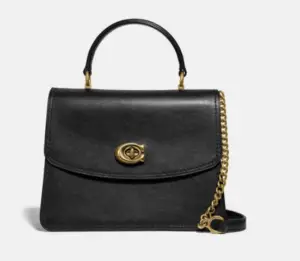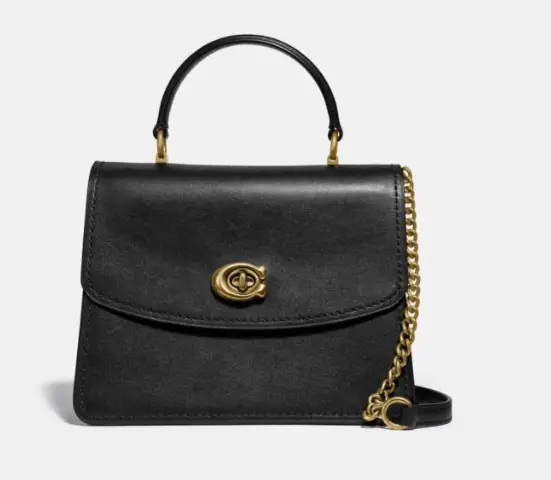 Elegant, simple, and incredible Coach Parker mid-size bag, regular $ 470.
My personal favorite of this brand is the Tabby Shoulder Bag 26 , available in different colors. The regular price is $ 500. The Tabby line is also a sales star. But, in comparison with Parker, it has rougher and more daring elements. While the previous models are more feminine and delicate.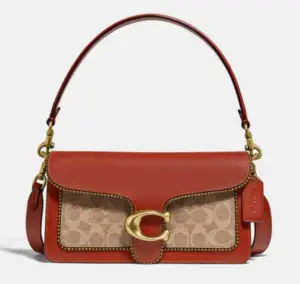 For lovers of crazy designs, there are also many options. Among the many brands, this one is perhaps one of my favorites. For good reason, Coach is first on the list.
PINKO
A recognizable logo in the form of two flying birds, symbolizing freedom and love. PINKO is a brand that relatively recently began to introduce bags into its collections. But it has already established itself in the market, and has gained millions of fans around the world. The most popular models have a classic rectangular postman shape. With a long wide belt or chain. If you are looking for a shopper or a clutch, it is better to look at other brands. PINKO bags are similar in shape and size to each other. However, due to the design, they are completely different. Everyone will find something for themselves: from classics to bright little works of art.
The average price for a bag is $ 300-400. An amazing combination of price and quality.
For lovers of the simple and elegant – the top PINKO bag is the MINI LOVE BAG MIX IN NAPPA LEATHER . You will find it in different colors and sizes. The regular price is $ 350. Isn't it a miracle?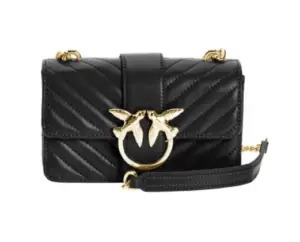 For lovers of something boring, bright and artistic, PINKO offers models such as, for example, MINI LOVE BAG FULL LOVE WITH APPLIQUÉD HEARTS . This bag in the regular price is $ 350. Although at the time of this writing, this miracle can be purchased for less than $ 250.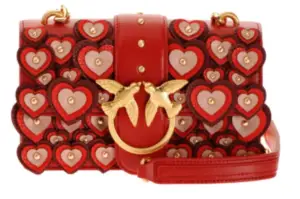 One of my favorites for PINKO is the CLASSIC LOVE BAG PUFF MAXI QUILT IN NAPPA LEATHER . Modern, simple, non-trivial, elegant and versatile. And of course, one cannot fail to notice a huge resemblance to the luxury bag from Saint Laureant – Puffer Loulou . With the fact that PINKO costs $ 400, and her French sister – from $ 1.5 thousand

TORY BURCH
Another American brand that has won the hearts of the weaker sex around the world. Prices are not the smallest, but still below $ 700 in most cases.
Tory Burch bags I would rather classify as classic and restrained. Beauty in the prostate and a recognizable logo. Unique handwriting is visible in every purse. Tory Burch has regal luxury, and you need to be able to wear these bags so that they are not worn by the owner. Therefore, in my opinion, they are most suitable for women 30+. It is important to have a complete harmonious image so that such a bag fits into your daily look. But this is a subjective opinion.
Tory Burch is great primarily in their evening petite versions. This is seen in the adorable ELEANOR SMALL BAG at the regular price of $ 700.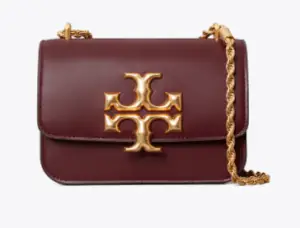 The girls' favorite shopper Tory Burch is also an absolute hit. Along with the already boring monogram from LV. Quality, style, comfort, originality, and reasonable price. All this makes the girls completely and desperately fall in love with the model PERRY TRIPLE-COMPARTMENT TOTE BAG at a price of $ 348 with a wide range of colors.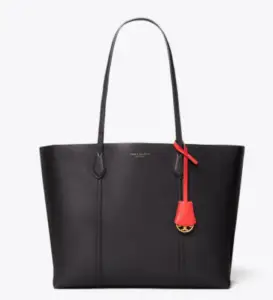 It is impossible not to notice the similarity with another bag from Yves Saint Laurent Black Large Shopping Bag , which costs about $ 1000.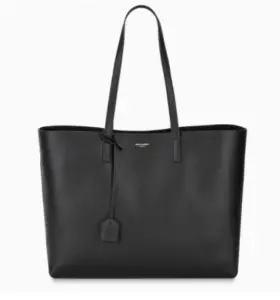 Or in a more casual baby, reminiscent of little GUCCIs – KIRA CHEVRON SMALL CAMERA BAG at the regular price of $ 450.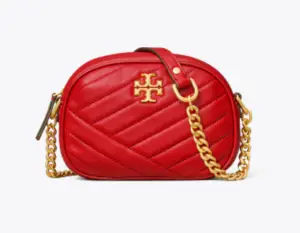 My undoubted love for Tory Burch is  ROBINSON COLOR-BLOCK MINI SHOULDER BAG . Incredible beauty for $ 470.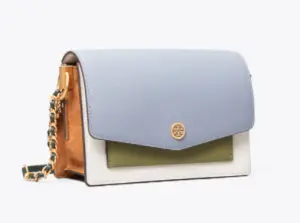 Coccinelle
Looking for the perfect size for your bag? Not too small – not too big. Then pay attention to the classic tote from Coccinelle – Coccinelle – Concrete . The price is about $ 200.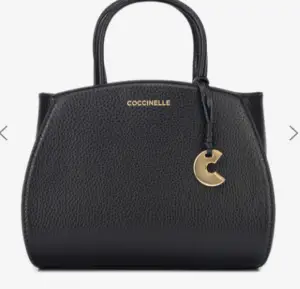 And my personal favorite – compact, casual and elegant, costing about $ 120 – GV3 Mini Bag E5 GV3 55 N7 07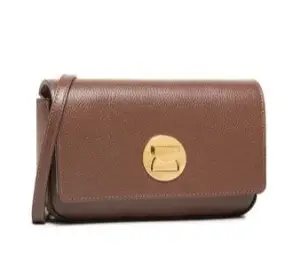 Michael kors
This incredibly popular American brand can be viewed in many ways. On the one hand, as is the case with Louis Vuitton in the luxury segment, MK is a rather ordinary boring brand that every second girl wears. MK, like no one else, collects a huge assortment of different bag models, inspired by other brands. They have a huge market all over the world. On the one hand, when deciding to buy a bag of this brand, it is difficult to stand out from the crowd. Nevertheless: quality, durability and reasonable price are what the brand has earned the trust of women around the world. Therefore, making a choice in favor of a bag from MK is impossible to miscalculate.
MK's absolute hit are:
Shopper Jet Set Large Saffiano Leather Top-Zip Tote Bag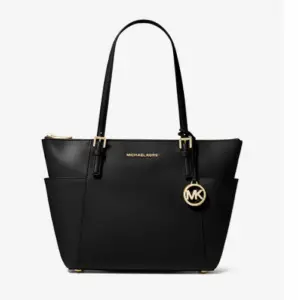 Versatile, compact, available in three colors, Crossbody MK –  Jet Set Large Saffiano Leather Crossbody Bag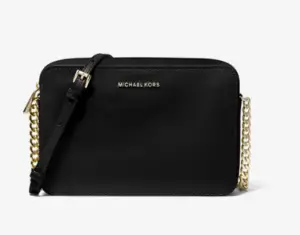 Read the continuation in the article "Top 10 brands of handbags in the middle segment. Part 2″.
TEASER:
FURLA

Kate Spade

Lauren Ralph Lauren

See by CHLOE

DKNY
Interestingly, to my surprise, the vast majority of brands on this list are American (6 out of 10). 3 out of 10 are from Italy. And one French. Before writing this article, I hadn't even thought about it.