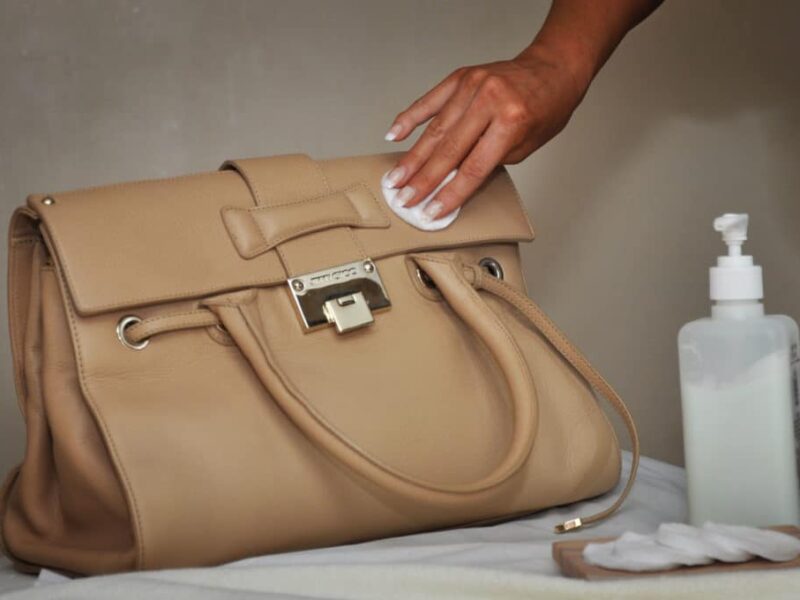 An indispensable wardrobe accessory for any female representative is a handbag. We are talking specifically about a handbag, elegant, complementing the image. It brings an element of originality and elegance, it can be of any size, color and texture. Agree, buying a quality bag costs a lot of money. So, in order for your handbag to serve you as long as possible, you will need to periodically "inspect" its condition, keep it clean. White handbags or handbags made of light leather require special attention. In this article, we will show you how to properly care for and clean your leather bag.
You can read about the best leather bags in the middle segment in this article.
A light bag requires constant attention
A product made of white leather is like a capricious child: it requires increased care and monitoring of the condition. Such accessories are of high quality and look impressive, but without proper care they quickly lose their attractiveness, the skin turns yellow or becomes dirty white, cracks.
There are many ways to care for white or light-colored leather bags. One of them, the most effective, is cleaning it. To carry it out, you can use special cleaning products and improvised ones that can be found in every home:
baby soap solution: to obtain it, you need to dissolve the soap in warm water, and then process the product with a soft sponge;
you can use a quality shampoo or liquid soap; they get divorced, like soap;
individual contaminated areas can be wiped with a sponge soaked in aviation gasoline;
An effective cleaning agent is pure alcohol, it removes even stubborn and stubborn stains.
Folk remedies for cleaning a white handbag
To tidy up a light product, you can use folk remedies:
sprinkle the contaminated part with finely grated chalk and hold it on the surface until the stain completely disappears, then rinse with warm water;
natural lemon juice, from a freshly cut fruit will help remove dirt: it is enough to wipe the surface of the bag with a cut;
you can use baby powder in the same way;
tooth whitening paste and tooth powder are effective;
cosmetic milk is suitable for removing make-up, and if it is not available – and ordinary warm milk mixed with egg white.
One of the oldest and most effective home remedies for cleaning stains from white natural leather is the use of onions. It is enough to remove the husk, cut the head and rub the contamination with the cut. Then, to remove the unpleasant odor, you need to rinse the treated area with vinegar diluted in water in a ratio of 1: 5, and wipe with a dry soft cloth.
The well-known laundry soap can also be used for the procedure.
How to remove greasy stains on a bag
Among the many tips you can find recommendations for cleaning with bleach. The choice remains with the owner of the bag, but it is worth understanding that the bleaching solution may contain quite aggressive substances that injure the surface and can lead to its destruction. In order not to spoil the accessory, before using the bleach, it is worth conducting a kind of test by applying a small amount of the solution recommended in the instructions to a small area of ​​the leather surface. Let dry and see the result.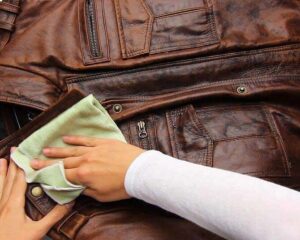 There are many ways to deal with greasy stains on the leather surface of products. For this, detergents, washing powder, starch, baking soda are suitable. Glycerin treatment can bring good results. It is used in cases where the greasy stain is old and cannot be removed in other ways:
a small amount of glycerin should be applied to the cleaned surface with a cotton pad;
gently rub in the composition and leave for 30-40 minutes;
after complete absorption of the preparation, wipe with a soft cloth and then polish with it.
We clean the bag inside
It is impossible to imagine a clean bag in which a dirty greasy lining, crumbs, candy wrappers, traces of lipstick or a ballpoint pen. You can put it in order in simple and affordable ways, but you need to start with completely freeing it from the content. After that, you need to prepare a warm soapy solution and carefully clean (rinse) the lining with it, turning it out of the bag. And at the end – rinse well.
But not every bag design allows you to perform the procedure in this way. Often the lining is firmly attached to the bottom of the product and cannot be removed. In this case, in order to clean it inside, you will have to use a cotton pad soaked in alcohol solution. If the desired result was not achieved the first time, the procedure must be repeated.
Let's give your bag a second life
It often happens that with a lot of bags, a woman has her favorite light handbag, which she is ready to never part with. But time is inexorable: the skin turns yellow, the surface loses its smoothness and elasticity. It's a pity to throw it away: good quality, excellent durability, could still be used if not for the loss of aesthetics. However, not everything is so sad. The accessory can be updated, and it will delight its owner for several more seasons. In order to restore a bag, you first need to clean it well and identify problems:
the scuffs that appear can be eliminated with a soap solution with the addition of ammonia, glycerin or fresh lemon peel;
cracks and scratches that have appeared on the surface will be "masked" by a mixture of ordinary vinegar and ammonia.
Pay special attention to the handles. They wear out the fastest, giving the product a scruffy, "shabby" look. There are solutions! To restore their condition, you can use the so-called liquid skin. If it is impossible to acquire it, simpler, but no less effective options can be used. So, for example, you can replace them with decorative chains used in the design of bags. Or, for example, belts, including those made by yourself and originally decorated. There are other options for replacing the handles, you just have to wake up your imagination.
Upgrade your bag and upgrade your hairstyle. Have you already read the article "5 ideas on how to freshen up your hairstyle for the summer?"